Christina Williamson – PI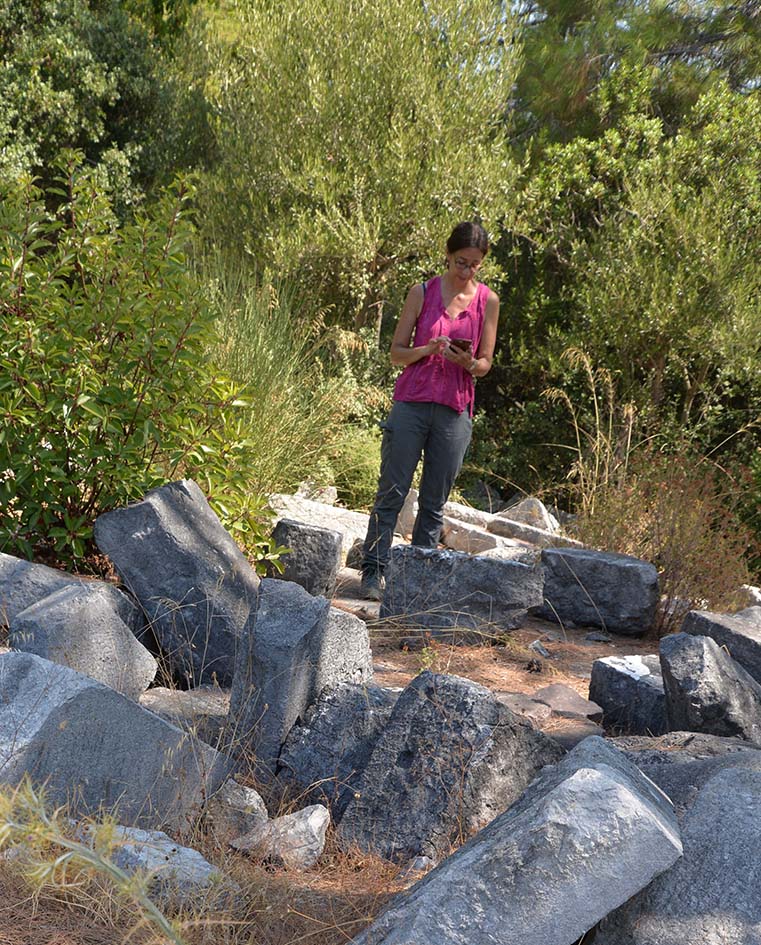 sanctuaries and connectivity
I am a researcher and lecturer at the University of Groningen, where I completed my PhD in 2012 on the subject of sanctuaries, landscape, and developing urban identities in Hellenistic Asia Minor. My research interests concern networks and spatial approaches to understanding religious influences on urbanizing processes. In 2014-2015 I conducted a post-doctoral research project 'Commanding Views. Monumental landscapes and territorial formation of Pergamon, 3rd to 2nd centuries BC' at the Jouwkowsky Institute for Archaeology and the Ancient World, Brown University, and funded by the Netherlands Organization for Scientific Research (NWO).
Currently I am co-director, with Onno van Nijf, of the project 'Connecting the Greeks. Multi-scalar festival networks in the Hellenistic world', awarded an Open Competition grant by NWO (2019-2023) – see also the website connectingthegreeks.com. My own project 'Deep Mapping Festival Hubs' is directly linked to this, and to the project 'Religion and Urbanity. Reciprocal Formations' at the Max-Weber-Kolleg at the University of Erfurt, where I hold a research fellowship.
---
selected publications
book
Williamson, C.G. (2021) Urban rituals in sacred landscapes in Hellenistic Asia Minor, Religions of the Graeco-Roman World 196, Leiden: Brill (Open Access).
articles
Williamson, C.G. (2022) 'Ritual ties, 'portable communities' and the transmission of common knowledge through festival networks in the Hellenistic world', in: A. Collar ed. Networks and the spread of ideas in the past, London: Routledge.
Williamson, C.G. (2020) 'Constructing the sublime. Landscape, architecture and human encounter in Hellenistic sanctuaries', in: A. Müller and A. Haug eds, Hellenistic Architecture and Human Action. A Case of Reciprocal Influence, Leiden: Sidestone Press.
Williamson, C.G. (2018) 'Filters of light. Greek temple doorways as portals of epiphanies', in: S. de Blaauw and E. van Opstall eds, Sacred thresholds. The door to the sanctuary in Late Antiquity, Religions in the Graeco-Roman World, Leiden: Brill, 309-340.
Williamson, C.G. (2016) 'Mountain, myth, and territory. Teuthrania as focal point in the landscape of Pergamon', in: J. McInerney and I. Sluiter eds, Valuing landscape in classical antiquity. Natural environment and cultural imagination, Proceedings from the Penn-Leiden Colloquia on Ancient Values VIII, Leiden: Brill, 70-99.
van Nijf, O.M. and C.G. Williamson (2016) 'Connecting the Greeks. Festival networks in the Hellenistic world', in: C. Mann, S. Remijsen and S. Scharff eds, Athletics in the Hellenistic world, Stuttgart: Franz Steiner Verlag, 43-71.
articles in press
Williamson, C.G. (in press) 'Crowned heights. Sacred mountains and developing political landscapes in Asia Minor', in: B. Vergnaud and N. Carless Unwin eds, Anatolian landscapes. Inhabiting western Anatolia in antiquity, Istanbul: Institute Français d'Études Anatoliennes.
Williamson, C.G. (in press) 'Webs of ritual ties. Festivals as multiscalar network strategies in the Hellenistic world', in: S. Kravaritou and M. Stamatopoulou eds, Religious Interactions in the Hellenistic World, Leiden: Brill.
Williamson, C.G. (in press) 'Sacred circles. Enclosed sanctuaries as urban repeaters in festival networks', in: Z. Newby ed. The material dynamics of festivals in the Graeco-Roman East, Oxford: Oxford University Press.
project assistants
Alexandra Katevaini
Alexandra Katevaini obtained her MA in Archaeology at the University of Groningen in 2021, with a specialization in Geographic Information Systems (GIS). She is currently pursuing a PhD via the University of Athens, in which she aims to bridge the gap between academic research and the public through digital means.
Alexandra is passionate about deep maps and has a key role in designing the GIS behind the project, but also in structuring and compiling the data and in finding ways to communicate this to broader audiences, especially through ArcGIS StoryMaps.
For an example see our joint presentation in November 2021 at Mainz.
Pim Schievink
Pim Schievink obtained his MA in Ancient History at the University of Groningen, focusing on the role of Asklepieia. He is currently pursuing a PhD project that will take this research further, focusing on tracing multivocality at sanctuaries of Asklepios.
For this project Pim took on the monumental task of assimilating the epigraphic data from the Asklepieion of Pergamon (from Christian Habicht's Die Inschriften von Pergamon. Teil 3. Die Inschriften des Asklepieions. Berlin 1969).